Corporate Profile
Pratt & Whitney®, founded in 1860, is a global supplier of ultra-precision Metrology instruments, inspection gaging systems, and length measuring machines. Our instruments incorporate the latest in laser and sensor technology allowing for fast and accurate measurements. Industry applications span across a wide range including, but not limited to: aerospace components, automotive parts, medical devices, thin film materials, roller & ball bearings, transducers, optical components, semiconductor devices, gear-spline-thread assemblies. Calibration laboratory applications include: gage blocks, internal and external threads, national pipe threads (NPT), cylindrical plugs, pin gages, ring gages, dial/test indicators, length standards, taper gages, micrometers, calipers, snap gages, disc masters, API gages, thread wires, bore gauges, and your precision parts.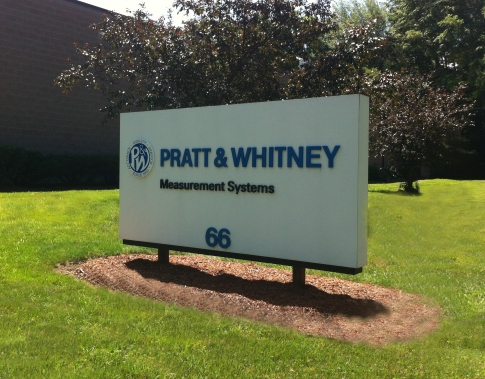 Over its rich history, Pratt & Whitney has delivered more than 12,000 measuring systems to our customers around the world and these high precision instruments have been providing reliable measurements in the following industries: aerospace, automotive, industrial construction, consumer goods, defense/military, energy, machine tool, manufacturing, materials, medical, power generation, research & development, semiconductor/electronics, and test & measurement.
Pratt & Whitney Measurement Systems' headquarters are located in Bloomfield, Connecticut, an area where manufacturing began and where Francis Pratt and Amos Whitney were pioneers in the industry. For over 160 years, Pratt & Whitney has been known as "The Standard of Accuracy" and is proud to engineer and manufacture its Metrology products in the United States.
Corporate Headquarters
Pratt & Whitney Measurement Systems, Inc.
66 Douglas Street
Bloomfield, CT USA 06002-3619
Tel: (860) 286-8181
Toll-Free: (800) 371-7174
Fax: (860) 286-7878
Email: info@prattandwhitney.com
Corporate Information
P&W SIC (Standard Industry Code) is 3829
P&W NAICS (North American Industry Classification System) is 334519
HTS Code: 9031.49.9000 (instruments); HS Code: 90314990 (instruments); ECCN: 2B206.c (laser instruments)
Fed ID# 57-1156437; D&B# 121250877; Government Cage Code# 3EQQ7; Unique Entity ID (SAM): S8XQQYDS9NV6
Accredited by A2LA to ISO/IEC 17025:2005 (cert# 2629.01)
Additional HTS Codes: 9801.00.1012 (repaired instruments; duty free; requires temporary import bond), 9013.20.0000 (laser; duty free), 9031.90.5900 (parts & accessories; duty free), 8523.49.4000 (DVD/flash drive; duty free), 9017.30.8000 (gauge blocks, rings, etc; NAFTA duty free & some countries; 3.9% in general), 4901.99.0050 (user's manual/book; duty free)
Suppliers/Accounts Payable: accounting.ap@prattandwhitney.com
Procurement/Accounts Receivable: accounting.ar@prattandwhitney.com
P&W Product & Services
Pratt & Whitney product lines include: gage calibration instruments, comparators, height gages, checking instruments, thickness measuring instruments, laser measuring machines, laser micrometers, as well as master and setting gages. Specialty applications such as gears, bearings, shafts, balls, optical components, textile materials, thin film, pipe/API threads, tapers, rings, blocks, or your precision components can also be measured on Pratt & Whitney instruments. Pratt & Whitney services include: field services, Metrology training, calibrations, repairs, and retrofits all with N.I.S.T. traceability.
Registered trademarks include: Pratt & Whitney®, P&W®, External SuperMicrometer® Model B, External SuperMicrometer® Model C, External SuperMicrometer® Model PC, LabMaster® Universal Model 175, LabMaster® Universal Model 1000M, LabMaster® Universal Model 1000A, LabMaster® Standard, Laseruler®, Universal SuperMicrometer® Model 501, Universal SuperMicrometer® Model 504, LabMicrometer® Model 900, LabMicrometer® Model 1600, Internal SuperMicrometer®, ElectroLimit® Comparator, ElectroLimit® Indicator, Laser & Digital Measuring Machines® and GageCal® software. Abbreviated trade names include: Supermic, Super micrometer, Supermike, Laser Micrometer, Super Mike, Laser Supermike®, and Measuring Machine.