Software / Downloads
GageCal® Software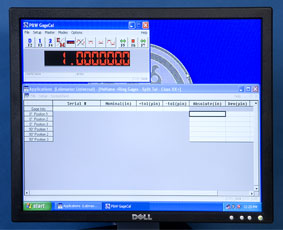 Powerful and resourceful, Pratt & Whitney's GageCal Software sets a new standard for user-friendly calibration and part measuring. By controlling the operation and facilitating data collection, GageCal increases total measurement productivity. GageCal is included with the following product lines: Labmaster Universal Model 175, 1000M, 1000A, BM175, BM1000M, BM1000A, Labmicrometer Model 900, 1600, External Supermicrometer Model PC, Universal Supermicrometer Model 501, 504. GageCal is an optional add-on for the External Supermicrometer Model C and Digital Measuring Machines.
Gage Management Software
Our optional gage management module, designed in accordance with ISO 17025 and ISO 9000, puts gage information at your finger tips. It represents a logical addition to the Labmaster because it makes storing, retrieving and reporting gage information quite simple. You will be able to track and display gage history, wear data, current users, the product evaluated with the gage, calibration dates, days since last calibration, and much more.
Downloads (Software & User's Manual)
For the latest Software and User's Manual revision level, please contact the Pratt & Whitney Service Department or fill out our Contact Form. Proof of ownership and instrument serial number is required for downloads, installation CD, or hardcopy User's Manual. Processing Fee applies to a lost CD.
GageCal 7.0 Installation CD [part# UPG-GCAL; sold per-instrument license].
GageCal version 7.0+ is tested on 32-bit Windows XP, 32 and 64-bit Windows 7, and 64-bit Windows 8/8.1 and Windows 10.
Please contact the Pratt & Whitney Service Department for hardware, software, and firmware* requirements. *USB box firmware may require updating (firmware included on GageCal Installation CD).
GageCal version 1.0-4.10 is no longer supported. GageCal version 6.0 is obsolete.