Electrolimit Indicator
The Standard of Accuracy
The Pratt & Whitney Electrolimit
®
Indicator offers the same resolution and accuracy as our laser-based instruments, but at a fraction of the cost. When compared with other electronic and mechanical indicators, the dynamic range (ratio of range/accuracy)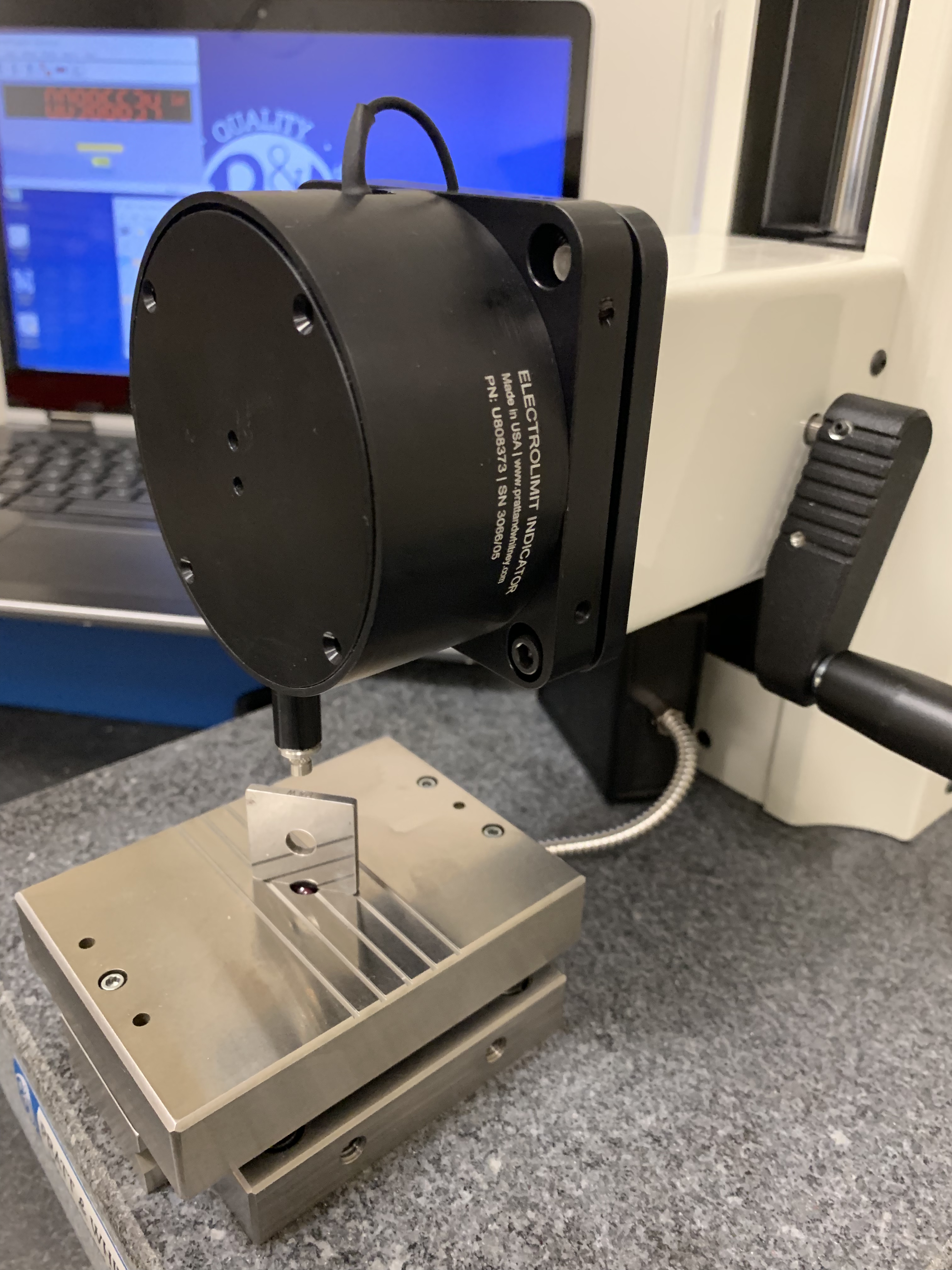 of 2000 for our indicator far exceeds that of other indicators, typically replacing the full indicator product line of other manufacturers.
The Electrolimit Indicator is the ultimate indicator for measuring flat, cylindrical, and spherical objects. A configurable general purpose anvil (optional) provides point contact support for measuring the three geometry types. Point contact ensures high accuracy and speed by eliminating the variability and time associated with surface and line contact geometry.
An Optional Electrolimit Comparator stand has a dual rod design that is considerably stiffer than other single rod designs. The stand's vertical slider employs kinematic contact to ensure minimal position change when locking the slider. Once the slider is locked in position, the comparator has frictionless motion and zero free play. The stand's vertical flexure lift provides clearance for inserting and retracting parts, while maintaining sub millionth repeatability. The Electrolimit Comparator stand stiffness ensures repeatable measurements typically not achieved with other comparator stands.
The Electrolimit® Indicator measures:
Balls / Spheres
Magnetic Tape / Disk Substrates
Optical Components
Poly Films
Gage Blocks / Slip Gauges
Coating Thickness Standards
Plug & Pin Gauges
Thread Wires
Film Thickness
Gauge Block Stacks
Mesh Thickness
Textiles
Precision Parts
Features & Benefits of the Electrolimit® Indicator:
Rigid design - For maximum repeatability and reproducibility
Factory calibration - Used for most measurements
Two-step user calibration - Allows choice of user or factory calibration
GageCal® PC control software - Microsoft® Windows based software reduces data entry, eliminates transcription errors, and speeds up measurements. Built-in gage tolerancing for many applications including balls, pins, plugs, blocks, threads, etc.


Specifications:
Model / Part #
ELECTROLIMIT INDICATOR (U308965)
Units
English
Metric
Resolution
0.1 µinch
2.5 nm
Accuracy
µinch in any 0.004" range
0.05 µm in any 0.1 µm range
Repeatability
µinch 0.04
µm
Measurement Range
0 to 6 inches
0 to 152 mm
Direct Reading Range
0 to 0.01 inches
0 to 0.25 mm
Measuring Force (standard)
0 to 4 oz.
0 to 113 g