Labmaster Universal - Model 175
The Standard of Accuracy ...and the most popular instrument in industry for over 31 years!

With instrument uncertainty to 2 millionths of an inch (50 nanometers), the Labmaster Universal - Model 175 is suitable for virtually all Internal (ID), external (OD), and same side dimension (SD*) measuring applications. This laser-based universal length measuring machine (ULM) has been developed by Pratt & Whitney for gage calibration laboratories that need to precisely measure length, outside diameter, inside diameter, pitch diameter, lead, major/minor diameter, taper, linear displacement, and thickness.
High accuracy is maintained by its laser interferometer, zero Abbe offset design, and large measuring table (100 lb [45 kg] capacity) with center position, height, pitch, and yaw controls. The computer-controlled precision air bearing slide and gaging probes remove operator-influenced errors commonly observed with traditional gaging methods by maintaining constant force. It also greatly minimizes wear and tear to both the measuring standards and the instrument. Air bearings are also highly resistant to contamination and have inherent vibration-damping properties that increase stability and accuracy. The large measuring table also acts as a soak plate. By design, the weight of the part will not affect the measurement because the table support is independent of the air bearing slide. This is not the case with traditional methods.
The Universal Length Measuring Machine is capable of measuring gage blocks, end standards, plain rings, threaded rings & plugs, API gages, pin & plug gages, tapered plugs, cylindrical setting gauges, micrometers, indicators, LVDTs, calipers, and snap gauges with instrument uncertainty to 2 millionths of an inch (0.05 micron). It is suitable for virtually all ID and OD gage calibration applications through its wide 0.020-inch (0.5 mm) to 14-inches (356 mm) measuring range. Only a handful of traceable masters, such as blocks, rings, etc. are needed (not included). The ULM includes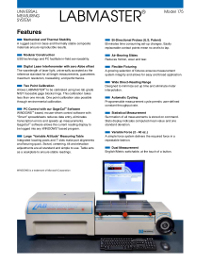 Pratt & Whitney's GageCal software that automatically enters tolerances for rings, plugs, pins, balls, threads (calculates pitch/major diameter) and flags out of tolerance conditions.
The Labmaster Universal Model 175 can also be configured around your bearing requirements to measure a wide range of anti-friction bearings; a new lab concept in industry (Model BM175; Bearing Measuring Instrument). The five basic types of anti-friction bearings can easily be measured on the ULM. They include: tapered roller bearings, needle roller bearings, ball bearings, spherical roller bearings, and cylindrical roller bearings. Measuring characteristics include: internal diameter, external diameter, outer raceway diameter, inner raceway diameter, radial internal play (radial internal clearance/play) and axial clearance (axial internal clearance/play). Other specialty measuring applications include: gears, shafts, optics, film thickness, nano gages, automotive parts, aerospace parts including aircraft engine parts, and your precision concept components can all be measured on the Universal Length Measuring Machine.
Geometric measuring characteristics related to size include: positional tolerance (on axis), parallelism, perpendicularity, angularity, total runout (pass/fail).
New Capability: ID/OD/SD*
SD = Same-side Dimension (SD = both probes travel in same direction; For example: measurement of step gages)
The Labmaster® Universal Model 175 measures:
Your Precision Parts
Spheres
Ring Gages
Gage Blocks / Slip Gauges
Setting Standards (Frames, Rods)
End Standards / Ball Bars for CMMs
Threaded Rings & Plugs (NPT)
Tapered Rings & Plugs
Pin & Plug Gages
Taper Threads - Pipe Threads (API Gages)
Cylindrical Setting Gages
Segment Gages
Ball Bearings
Coating Thickness Gage Standards
Rolling Bearings (Tapered, Cylindrical, Spherical, Needle)
Shafts
Micrometers
Dial / Test Indicators & Dial Calipers
LVDTs / Glass Scales
Electronic Vernier Calipers
Rulers
Lead Gage Setting Standards

Snap Gages
Variable Screw Thread Gages (Tri-Roll)
Taps, Dies, and Cutting Tools
Feeler Gages
Gears / Splines
Dial Bore Gages / Swing Gages
Master Setting Bars, Setting Masters, CMM Masters, Precision Parts
Popular Measuring Options:
API Threaded Connection Frames (NUE, LTC, EUE, Line Pipe, STC, Buttress)
Dial Bore Gage Kit
Step Gages / Gauge Bars / Surveillance Masters for CMMs
Radial Internal Clearance (RIC) kit / Radial Play Gage
Axial Internal Clearance (AIC) kit / Axial Play Gage
Taper Thread Inspection
Coordinate Measuring Machine Masters (300,600,1000,1500)
Internal and External Thread Gages
Rotary Shouldered Connection Thread Inspection (semi-custom application)
Gear / Spline Accesories
Specifications:
Model / Part #
LMU-175 (U306270)
Table Axes of Motion
Elevation, Center, Tilt and Swivel
Accuracy
2 + 0.5L µinch
0.05 + 0.5L µm
Repeatability
1.6 µinch
0.04 µm
Measurement Range: Internal*
0.02 to 14 inches
0.5 to 356 mm
Measurement Range: External*
0 to 13 inches
0 to 330 mm
Direct Reading Range
7 inch
175 mm
Measuring Force (standard)
0.5 oz.
14 g
Measuring Force (optional)
2-40 oz.
50-1100 g
* Measurement range can be increased to 20 inches (508 mm) with optional probes.